This week's 'On the Bench' is a quick rundown of how I accomplished some of the details on my Bronzino conversion. In general, I am happy that I was able to salvage the model as I expected it to not come out and was anticipating having to scrap it.
When it came to the cloak, I started with a base coat of Vallejo Hexed Purple. Once this coat dried, I gave the cloak a wash of GW Purple Wash. Once that dried, I did layers of Vallejo Hexed Purple with increasing amounts of Vallejo Dead White and Vallejo Violet-Blue. I also thinned each layer with Vallejo Medium Glaze and acrylic thinner.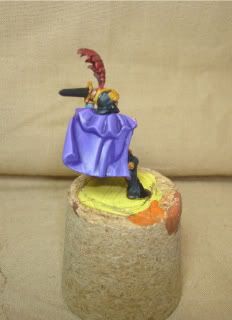 The armor was accomplished using a similar approach, only this time with different hues/tones of grey. I started with a base coat of Vallejo Black Grey. Once dry, I gave the metal areas a healthy wash of Badab Black. Once this was dry, I start with a thinned layer of Vallejo Black Grey. As I apply each new layer, I add more Vallejo London Grey and Vallejo Glaze Medium. Near the end of the process, I begin to include Vallejo Light Grey and Dead White to the mixture.