Welcome to a new weekly segment called the Monday Match-up. All over the internet, people post their army lists and look for feedback, but rarely do I read actual tactical comparisons between armies and how specific missions impact them. That is the goal of the Monday Match-up. Each week, I will post a mission, an army list, and maybe a few "conditions" that will influence how the game will be played. The idea is for readers to post the army they would be playing and how they would approach the mission considering the details provided.
Monday Match-up for 01/03/2011

The Mission
Annihilation using Pitched Battle deployment
The Board
The Army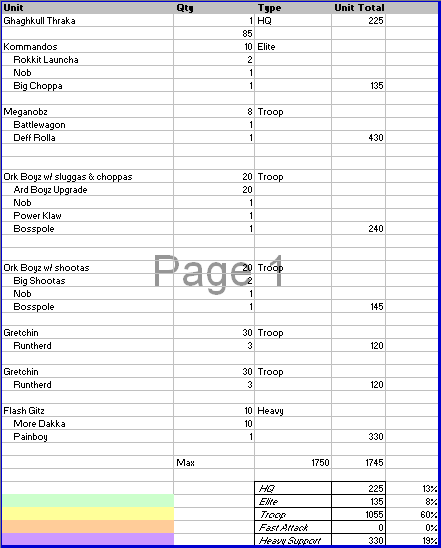 (Ignore the 85 in the second row as that is a typo.)

Special Conditions
A couple of special conditions for this game:
1. The ork player will focus all of his units on one side of his deployment zone at the start of the game.
2. The ork player has made a point of stating that his main goal is to kill your HQ as revenge for a prior game. Having played this person before, you know that when he makes these kinds of statements, his tactics always reflect the declaration.