The Coin Collectors wandered into the abandoned village as the sun began to set in the west. The client that hired them stated that they could not open the scroll explaining why they were sent there until they had reached the village.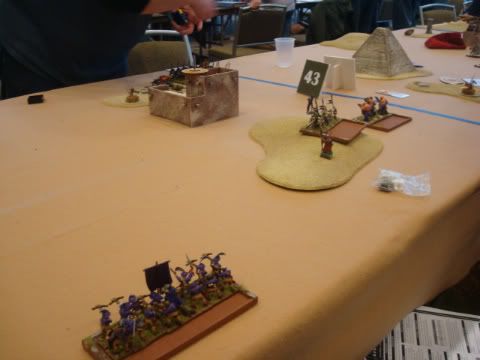 This was my first game in the Adepticon 1000 point tournament. My opponent was Roder, a nice fellow from Minnesota that was playing a very cool lizardmen army.
Scenario
Deployment
When it came to my set-up, I decided to begin with the Marksmen placed in the center of my deployment zone. In comparison, Roder started with a unit of skinks on the northern flank. As we continued to deploy, the lizardmen became stacked on the southern flank, with the stegadon set to charge the middle of the board.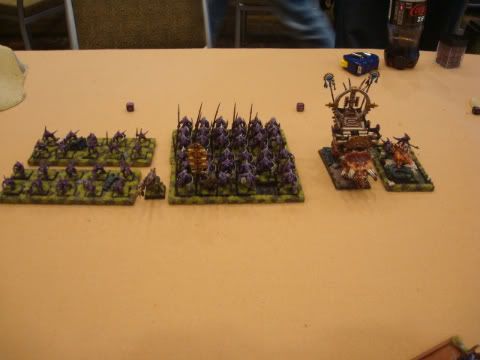 Early Turns
The game began with Vespero and company making a dart for the skinks on the northern flank. The skinks responded with a couple of volleys of poisonous darts that killed everyone but Vespero himself. In turn, Vespero was able to reach the skinks and kill enough of them to shake their confidence. As they fled the field, Vespero pursued and killed what remained of the reptilian assassins.
Across the battlefield, the roar of a stegadon could be heard as it scouted forward. The paymaster responded to the beast with his own roar to bring it down. Moments later, the beast lie dead, victim to a volley of precision crossbow bolts and a cannon ball in the side. For a brief moment, the cheers of the Coin Collectors could be heard from across the hall.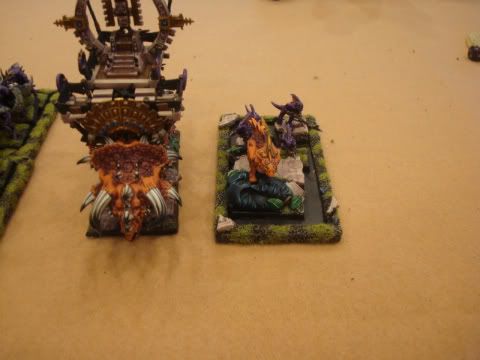 Middle Turns
The southern flank was going to decide the outcome of this battle. A large regiment of saurus warriors was advancing on the ogres and Cursed Company. Marching with them was another small band of skinks and a salamander looking to consume something in its path. The ogres took the lead and positioned themselves to accept the charge from the saurus warriors when it arrived. Their undead partners moved to claim the building that was being held by the skinks.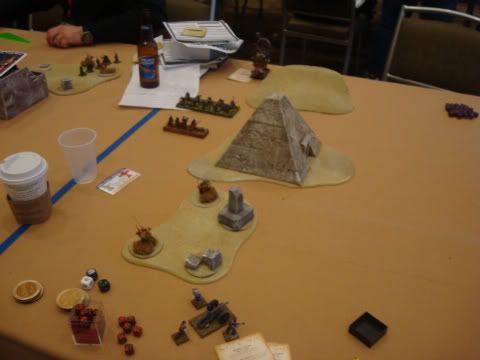 While the fighters prepared to fight, the magic user did what his name implies. Calling upon the Lore of Metal, the hireling mage unleashed its greatest spell, Final Transmutation. Suddenly a few of the saurus warriors froze into place and began to turn into gold.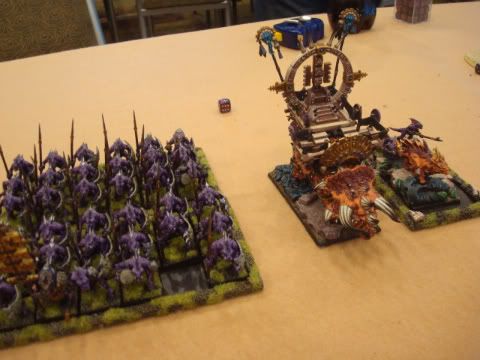 Final Turns
The final turns of the game became a dance between my shooting attacks and magic and the saurus warriors. Each turn a few more were dropped, but enough remained to keep pressing forward. As they moved, the Cursed Company faced the remaining skinks for control of the building.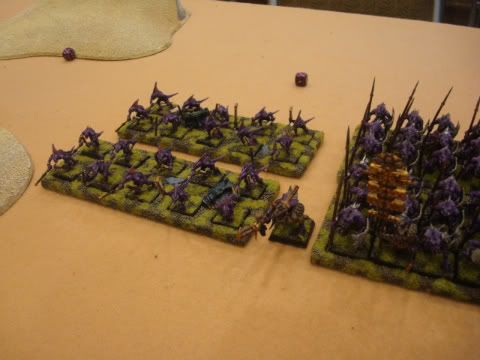 Conclusion
In the end, the Dogs of War were victorious. I had defeated enough of them to have the edge on victory points, and thus the win. I had also scored a couple of the objectives to earn some additional bonus points.